Emerald Valley Mine Turquoise Ring - R3962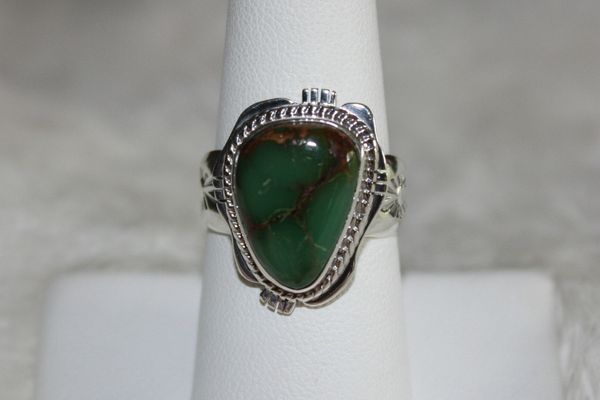 Emerald Valley Mine Turquoise Ring - R3962
The Emerald Valley Turquoise Mine, located in Nevada, produces a very hard and highly sought after deep, forest green turquoise. The incredible stone in this ring is surrounded by a wide silver bezel with twisted silver rope, elaborate cut out and scallop work. Hallmarked "J.S." and ".925" by the Navajo artist. Sampson Jake reverses his initials so as not to be confused with another Navajo artist, Selina Jake. The stone and bezel measures 3/4" by 5/8". Crafted entirely of sterling silver as well as the band accented with a sunburst on each side.
Size 8 - Can be resized for a nominal $15 fee billed separately through PayPal.
Rings that are resized cannot be returned.



Reviews
Featured Products